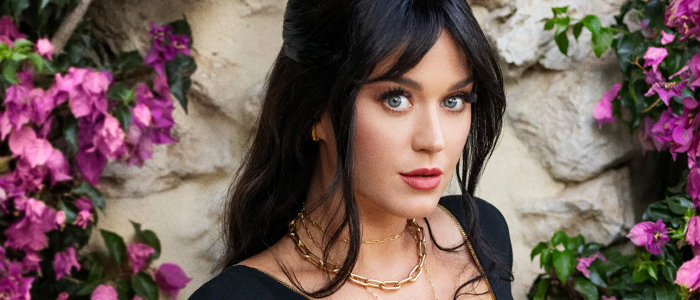 KATY AND UNICEF

"It's funny because she is staring at me; it could have been Marilyn Monroe or Sophia Loren," Perry says, pointing to the 1950s-era black-and-white image of Audrey Hepburn, the first female Goodwill Ambassador for UNICEF. "I think it's a sign she's saying, 'go for it, girl!'" The plan later that evening is to sing Moon River with John Legend at the gala for the international children's aid fund, for which Perry is also a Goodwill Ambassador. While the show may focus on tried-and-true hits, don't be surprised if Perry continues to explore music along the lines of the famous Breakfast at Tiffany's song. "I am a Henry Mancini girl," she confirms.

This is her first live singing appearance for a UNICEF fund-raising event since joining the organization in 2013. "It's a great fit. And it's interesting to go from COVID isolation to whoa, full-on Italian decadence and history." She warmed up to post-pandemic singing, performing a sultry low-key-style ballad for a Louis Vuitton Frank Gehry-designed perfume bottle launch in July, but UNICEF's alfresco evening at La Certosa di San Giacomo in Capri thrilled 650 guests with a full-blown concert experience.

Like any new mother—baby Daisy Dove was born on August 26, 2020—Perry has learned the art of multitasking, as any free moment she prefers to spend with her daughter. Granting the interview during her hair and make-up session just before taking the stage, Perry's seasoned pro/girl-next-door persona shines through (and yes, her beautiful blue eyes occasionally bat, a most endearing gesture.) This was her second Capri trip. She arrived with family in tow: Daisy; fiancé and fellow Goodwill Ambassador Orlando Bloom, and Mom, Mary Hudson (née Perry). The trip would allow both young parents some decompression time before heading back to their respective projects to include the 20th season of American Idol.

Recently, Perry has observed a fair amount of "revenge peacocking" in this post-pandemic time, in which she's happy to participate. While the pandemic may have slowed things down just enough to enjoy some downtime around Daisy's birth, Perry hasn't missed a beat as a style presence. But, it's a style perspective that she would say has evolved over the years. Perry has grown into a more refined look, recalling the series of events that landed her in a light-up dress at the Met Ball in 2010, thanks to a snafu with a Viktor & Rolf number. (She topped that dress with the Jeremy Scott chandelier gown at the 2019 "CAMP"-themed event.) "Especially at that time, playing the fashion game was new for me. I was the caution queen, just wanting to wear what I wanted to wear," she says, reflecting on her memorable looks that were the opposite of cautious. "For me, it's a confidence thing, like I don't need it all. I used to do crazy nails, and now I do beautiful 'ballet' nails,'" she says, fanning her fingers as proof.

The more sophisticated look embraces black, which she found boring in the past. Case in point: her red-carpet outfit for the UNICEF gala was a hyper-sophisticated Pierre Cardin 1978 haute couture black column dress with white statement bow sleeves. She donned a golden sequined Dolce & Gabbana dress with a white chiffon cape to perform. Not subtle, but certainly reflecting a new elegance. "You learn how to play it," she advises of her stage presence.
KATY AND VEGAS

Perry's tenure and 360-degree ability to play to her audience (music, performance and dress) will culminate with a soon-to-launch Las Vegas residency, "Play," which kicks off on December 29 at The Theatre at Resorts World. It sounds like a lot to undertake—the jammed-packed scheduling of a Vegas show franchise involves repeat performances—but, the superstar has already managed the logistics of music commitments, motherhood and all her other gigs, such as TV show American Idol. "I am used to spinning quite a few plates," she asserts. "I like the constant stimulation."
It's also a musical diva rite of passage following Lady Gaga, Mariah Carey, JLo and Celine Dion, the latter with whom she will share the Resort World's physical space. Las Vegas reveals some Perry family lore. "It's so funny to play there because my aunt was a topless showgirl dancing at the Stardust, and my grandmother was a seamstress for the show," she shares, adding, "Resorts World sits on the same ground, so Vegas is very much in my blood." But she promises a family show for a performance that hovers between concert and Broadway musical. "I'm aiming for my audience to be the family—eight to 80 years old. I do everything with a wink. Even if it's a sexual connotation, it's subtle. It's not about the peacock."
Perry will embrace innovative technology for show merch. The experience will offer take-homes for the fans via an NFT project she is working on with Theta Labs, an emerging blockchain/crypto company in which Perry invests. Rather than a strictly digital souvenir, the singer sweetens the deal with her massive stagewear archive as a physical component to purchase. This involves rummaging through a large warehouse near LAX. "Girl, I don't even know how many costumes I've worn," she quips. "NFT's are new and niche. A lot of people don't know what they are, and my fans love the tangible, so I will pair costumes and props to offer a package." Thus, another venture under the Katy Perry business empire. "It's always nice to experiment a little bit."
KATY AND SHOES
The Katy Perry Collection shoe brand, launched in February 2017, is the most obvious way Perry expands her empire beyond entertainment. The shoes are near and dear to her, but so is owning her eponymous brand. Initially, the line was a 50-50 partnership with Global Brands Group, which just filed Chapter 11 bankruptcy. The not-to-be-underestimated savvy business woman, however, had inked a deal to gain full ownership of the brand. "I want to take it higher. The past couple of weeks, I created a deal and got gutsy. Rolling the dice, but I'm excited. The truth is that I was looking forward to owning more of my company. We will find the right distributors and be more one-on-one with our manufacturers."
Four years in, she's still learning the ropes. "It's a slow and steady process. There's a lot to partake in to make it a successful product and not just another thing for 'trash island,'" alluding to fast fashion in general. A fan of shoe brands including Charlotte Olympia and Sophia Webster, she aims to offer an affordable range, high on personality. "These styles are exclamation points at the end of the outfit, but they start around $400. A lot of my fans are young girls who can't afford that," she says, noting that her line generally retails between $30 and $100.
Inspired by female fashion leaders such as Miuccia Prada, Tamara Mellon and Tory Burch, who "created this insane business," Perry has stocked her team full of strong female players in design and manufacturing arenas. In late April, Perry hosted a near-90-minute Amazon Live, demonstrating her belief in the brand that bears her name and endeavoring to connect directly to her consumer. Besides the product's originality, Perry instilled the road-tested comfort factor of the line during the segment. "I don't have time to break in uncomfortable shoes; no one does."
Accessing the masses to offer affordable, trendy shoes takes honing in on a hero item. In this case, it's adult jelly sandals embellished with crystal motifs like watermelon, or bearing a witty piece of toe jewelry on a thong. "This is what I am figuring out: a specific style that becomes your signature. We did Prime Day with Amazon, and the amount of $30 shoes that I could sell was outstanding. People want these Geli's for real," she observed at the time, recognizing the online giant's distribution is unrivaled. "[Amazon] will be the first ones to ship to Mars, that's for sure."
The new beginning of Katy Perry Collections begs the question about what else she plans. Perry doesn't want to succumb to the pressure of expanding simply for expansion's sake. "Nobody needs more," she concedes. "It's exciting that the line is revealing itself. I want to ace the shoes, and then see what naturally occurs."
KATY AND FAMILY
As dizzying as it must be to juggle all these roles, that's just Katy Perry's professional province. She and fiancé Orlando Bloom spent most of the pandemic prepping for and becoming parents. (Bloom also has a 10-year old son, Flynn, with his ex-wife, model Miranda Kerr). It was a bit of a silver lining to be able to slow down. "I was grateful for the opportunity to be present. I mean, I still would have been, but I would have had FOMO scratching at me just a hot bit," she says, quickly correcting herself. "Not really, though. She is everything I was ever looking for." The family stays together as much as possible, even with Bloom's shooting schedule for the second season of Carnival Row in Prague. "We visit him a lot, and I love carrying her on me or going for walks all day with the stroller. She points at things and says 'da,' to which I say, 'yes, that is a cat,' or 'that is a tree.'"
Little Daisy has learned to go with the flow, always in tow with Mom and Dad wherever they go. "She is adaptable and happy; her schedule fluctuates. In the beginning, I worried about a schedule, but decided I won't be that mom. All that matters is that everyone is happy." One advantage to parenthood Perry feels is having an "opportunity to do it in a way that one hopes it was done for them, maybe better. I don't know if anyone gets it right." Still, she believes you can do and have it all but cautions, "You have to be smart and exercise the word 'no.'"
Music appreciation is high on the list of life lessons she aims to pass on to Daisy. Perry takes her tot to a Mommy & Me music class, and it was there she realized her little one was more familiar with old soul playlists featuring Bill Withers and Stevie Wonder. "I thought, 'OMG, she doesn't [even] know new music!'"
KATY AND CREW
Noting that minute point about Daisy's existence is par for Perry's course. She's on top of every detail in her universe. "Everything I do, I give it overwhelming 100 percent." Watching her run even just one day of the Katy Perry empire is impressive, just observing the amount of minutia she manages. To wit, she guides her mother through her evening dressing ritual down to the shoe, bag, and the sparkly earring chosen from jewelry trays presented for the occasion; the logistics for the departure and Orlando's shoes; just how much her top-bun hairstyle should resemble a brioche, or the amount of red dominating her eyeshadow. But rather than seem overbearing and control-freaky, it's delivered with genuine grace that instills loyalty along with a playful nod. The please-and-thank-you's are emphasized when chicken fingers, grilled veggies, coffee and a toothbrush are summoned and delivered. The interview is politely paused during a blow-dry, ensuring both things are done right. When informed that an event executive's 13-year-old niece has been waiting patiently in the lobby to meet the star, she agrees and happily participates in a photo-op for the young Italian fan. "I can talk to anyone," she says. "I can hang with anyone, actually. I love it. I'm a people person."
KATY AND FUN
Perry is all pro but also plans to multitask some fun while on the island, lest that FOMO beckons. "I have a lot of friends here," she explains, possibly referring to fashion industry heavyweight Edward Enninful , Editor-in-Chief of British Vogue, and others befriended at various Met Ball appearances. "We always figure out how to make it fun. I have free time for one last hurrah before I start getting ready for Vegas—i.e., stop thinking about eating pasta all the time so I can get back into tour shape again." Perry made good on that promise; the next day, she and Bloom were captured canoodling on a boat. Two nights later, the couple tore down the house in the famous Capri sing-along nightclub, Taverna Anema e Core.
While daring moves—like dying her eyebrows 30 minutes before leaving for an event—are a thing of the past, Perry still revels in the act of dressing and glamming up, even if it means enduring a bit of pain for an up-do. "It's exciting to play the high and low fashion game, to pair my shoes with different designer looks like Proenza Schouler, Valentino and Prada. I don't discriminate just because it's a label," she recalls of the photoshoot. "I had a really fun time at the shoot. Fashion is expression, presentation, peacocking, beauty. Everybody loves beauty. It's just the beginning for Katy Perry Collections."